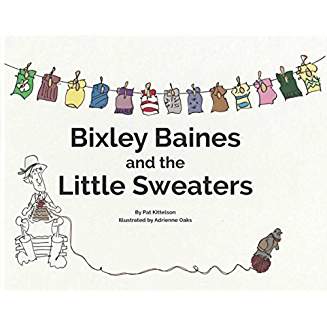 Bixley Baines and the Little Sweaters is a story based on a true event that occurred in 2000 off the shore of Tasmania, Australia. An oil tanker leaked and covered little blue penguins residing there. Little sweaters were knit and used to keep the little penguins warm during their cleaning and recovery. With a fun story and the true science plus a knitting pattern, this is a book to inspire simple solutions to caring for the environment.




About Bixley Books


Bixley Books is a small independent book production company featuring stories that highlight true environmental problems that have been solved by local scientists working with local and surprisingly global communities.

The stories are fiction; the science is real. The results have been positive - fixing one problem at a time.

For more information about Pat and Bixley and upcoming Bixley adventures, please visit: https://www.bixleybooks.com/





Pat Kittelson - Author

?Pat Kittelson lives in Denver, Colorado; she has a Masterís degree in Library Science with a specialty in the history of childrenís picture books. Pat is a backyard beekeeper and enjoys working in her garden, knitting, making jam and of course reading picture books. She has lived in Western Samoa working as a Peace Corps Volunteer and in New Zealand working as a librarian and knitting sweaters.

Author Statement

I believe that life creates a series of good stories. We share stories and we learn from them. We tell stories when we have no other words to express compassion, sorrow, love, and happiness. When I meet a person, I know that inside that person exist many, many, good stories - some to share and some to hold. I like to take stories of real people making a difference and re-tell them in a way that highlights scientific creativity.